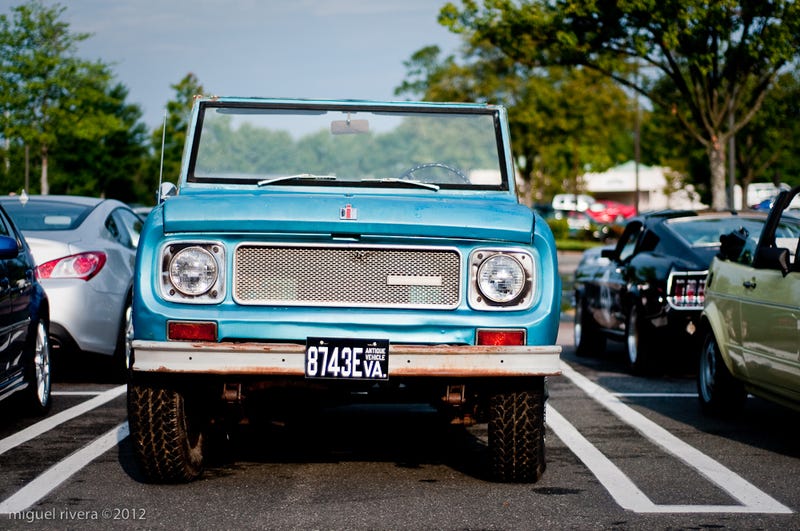 Year: 1969
Make: International Harvester
Model: Scout 800A
Mods: None. All original except for some marine speakers and a bluetooth receiver/amp so I can use my phone to play music, as the original AM radio is dead.
Miles: 51000
Engine: 196ci (3.2l) inline 4. 110BHP, 181 Lb. Ft torque
Transmission: 3 speed manual
Drivetrain: 2H, 4H, 4L with permanently locked hubs. Range is selected via transfer case.
This is my Scout. There are many like it, but this one is mine. Actually, that's not entirely true. There don't seem to be all that many left these days, or at least I never see them around here. I see the occasional Scout II, but not the old 80s and 800s. Presumably they have either rusted away into the great beyond, or have been relegated to the back 40 out on farmer Bob's farm. A farm, in fact, is where this little Scout started its life, and on another farm, is where I found it. This Scout was originally purchased for use on the Anheuser-Busch farm outside St. Louis. After several years of service on Grant's Farm, it was sold to an employee. After that, its history is rather murky, until the farmer I bought it from purchased it from a lady in Charlottesville, VA sometime in the early 2000s. It had clearly spent many of its days sitting in disuse, as when I showed up to get it, it had less than 47000 miles on the clock, and the accompanying paperwork indicated that number was actual, and not that the odometer had rolled over. It had a most recent Virginia inspection sticker from 1986. As with so many projects, the gentleman I got the Scout from had purchased it with the intention of restoring it, but life had gotten in the way. I traded him straight up for a 1983 Ford F-100 that I had paid $500 for a few years before, while I was renovating my house. He wanted a farm truck, and I wanted a Scout, so the deal was done, and I towed the Scout home.
My intentions were (and still are), to basically return the Scout to good working order and do what I refer to as a "cosmetic" restoration. I want a good solid driver that looks decent, but certainly won't be even in the same county as show quality. As I am perpetually broke, working full time and raising 2 kids, time spare time and money are not things I have a lot of, so this is going to be a loooong process. I did manage to take care of the mechanicals in fairly short order, and drive the Scout regularly when the weather is nice, and sometimes when it's not so nice. Until a few months ago, my daily driver was a Legacy Outback. Living in the south, we don't get buried in snow in the winter, but we can expect, on average 2 or 3 rounds of several inches of the white stuff. When that happened, I would let my wife drive the Subaru, and I would take the Scout. With hi and low range four wheel drive, and a torquy 4 pot under the hood, I always felt perfectly safe driving around in the snow. Honestly, it is every bit as good in the snow as the Subaru, with better ground clearance. Power brakes would be nice I suppose, but I never had any trouble.
Sadly, my goal of a making the Scout into a decent looking cruiser may be in jeopardy. We are currently in the middle of buying a new house, completely unplanned, and I may end up having to sell my baby to raise a little dough. Fingers crossed I can find a way to keep her.
You can follow my adventure up to this point in my occasionally ongoing series "My Rusty Hell" on Oppositelock.